SACAS OF MANZANILLAS AND FINOS BY CASA CURRO MARBELLA
Manzanillas and finos are traditional Andalusian wines that are unique in the world. Both are organically aged, i.e. no chemical fertilisers, pesticides or herbicides have been used in the treatment of the vines and their cultivation. Another characteristic of these wines is the so-called "velo de flor", which is a layer of yeast that develops on the surface and prevents the wine from coming into contact with oxygen.
Both manzanilla and fino are made from white grapes; in the case of manzanilla, which can only come from the territory of Sanlúcar de Barrameda in Cádiz, the Palomino, Listán Sanluqueño or Zalema varieties are used. Fino is the other traditional Andalusian wine, which is produced outside the territory of Sanlúcar. Our fino comes from Cordoba and is made from the white grape variety Pedro Ximenez.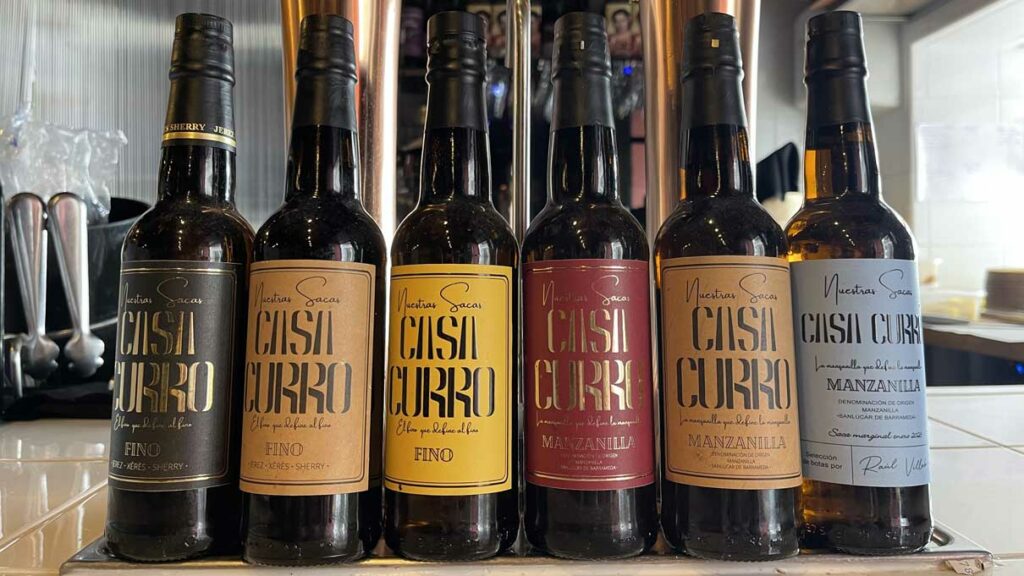 As for the taste of these wines, they are the driest and least acidic that exist and therefore ideal as an aperitif drink. In our menu, it is a perfect option to combine them with cheese boards where the milks have a high organoleptic content in acidity.
The "sacas", are the wine extractions that are taken out of a "bota" or "solera"; the "bota" is the barrel or cask of 500 litres where the wine is stored. This concept of bota is used especially in the Marco de Jerez, which is the wine-growing territory of the provinces of Cádiz and Seville. As for the solera, it is the set of butts stacked for ageing the wine.
Our manzanilla sacks come from the Miraflores winery, belonging to Bodegas Yuste, in Sanlúcar de Barrameda, Cádiz.
The sacas de fino that we use at Casa Curro come from the Lagar de Los Frailes winery in Moriles, Cordoba.
These wines are "en rama" which is a concept that refers to the fact that they have not undergone any type of filtering, that is to say, they have been bottled directly from the butt without having undergone the usual processes such as clarification and stabilisation. In addition, all the extractions are carried out with the utmost care to ensure the minimum alteration of the flor veil.
The purpose of each extraction is to find a profile according to the time of year or seasonality of the year. What is done is a tasting of each of the butts that make up the solera and choosing a set of hundreds of litres to combine them appropriately according to the desired objective of our sommelier. This selection of both manzanilla and fino is carried out periodically throughout the year, as the conditions that affect the characteristics of the wine, such as humidity and temperature, vary throughout the year.
The format that is marketed at Casa Curro is a 37.5cl. bottle.