OUR BOTTLINGS
In La Tienda Casa Curro we have created a commercial line of our own wines, which are therefore unique and exclusive to us, which consists of selecting different "still wines", i.e. white, red and rosé wines without bubbles, from the most important areas of the Spanish wine map.
For the production of these wines we mainly select La Rioja Alavesa and El Bierzo, León, although we also have some Andalusian wines.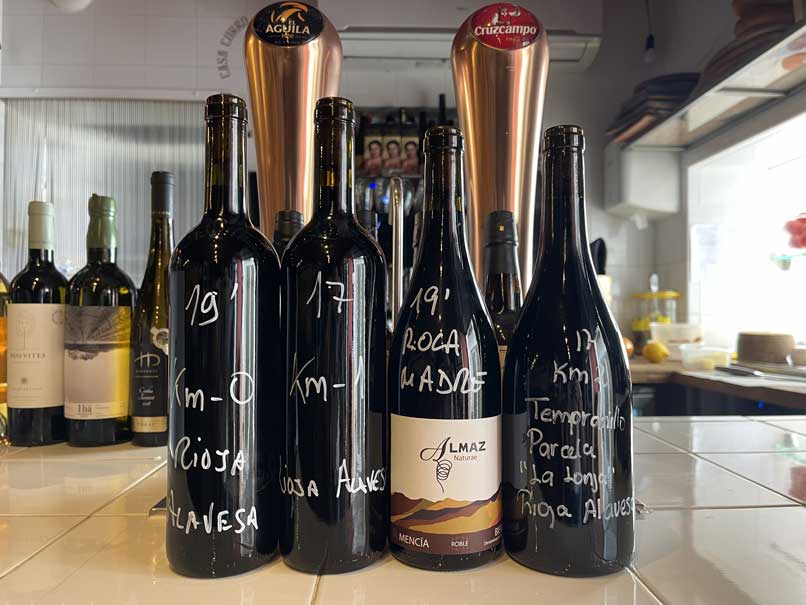 On the one hand, we find the collection of wines, called "kilometres", which come from La Rioja Alavesa, and consist of four red wines (km0, km1, km2 and km3) and a white wine (km10), we will talk more in depth about their characteristics in another post that we will dedicate exclusively to them.
On the other hand, from León, we have the "Rocamadre", which we can enjoy in white, with the Godello grape variety, or in red with Mencía. The name of these wines is an allusion to the great importance of the singularity of its terrain and soil. It is a humid brownish-brown soil, slightly acidic and therefore free of carbonates.
Finally, from Andalusia, we find the "Calcáreo" of terroir origin from the Balbaína, which is located between Puerto de Santamaría and Jerez, and the "50/50". With the term terroir, we refer to the combination of the key factors in the elaboration of quality wines, which are the soil, the climate and the grape variety together with the hand of man.
Regarding the "50/50", it is a wine of Malaga origin, more specifically from the historic region of Mollina. It is a wine created in a very small winery with a beautiful story that deserves a post for itself.